Peacock is an over-the-top Ott video streaming service owned and managed by NBCUniversal's Television and Streaming unit, a Comcast subsidiary. Peacock TV service was launched on July 15, 2020, and till the current date, it has been giving us entertainment with a quality service. The service primarily features films, news, and sports programs. Apart from this, it also offers entertainment shows in different categories.
Popular shows available on peacock TV:
Boss baby 1,2
The office
Modern family
Manifest
Hunger games
Vikings
Yellowstone and many more binge-watch web series and movies.
Read also- How to watch MLB TV on Samsung TV?
Apart from the tv shows and movies you can also browse:
News section: NBC news, entertainments like the tonight show Jimmy Fallon, late night with Seth Meyers etc.
Latino section: world of dance, The Riveras, etc.
Kids section: make way for noddy, where is waldo, guess with Jess etc.
Sports section: Tokyo Olympics 2022, WWE Network, Golf, Tennis, Supercross, Cycling, Motocross, Rugby etc.
Peacock Originals TV Shows and Movies
Dr. Death
Dan Brown's the Lost Symbol
John Wayne Gacy: Devil in Disguise
Epstein's Shadow: Ghislaine Maxwell
We Are Lady Parts
Girls5eva
Rutherford Falls
Punky Brewster (2021)
Saved by the Bell (2020)
Devices and platforms in which Peacock is compatible?
There are various devices and platforms in which peacock TV are available, here are the details:
Amazon: Peacock is supported on Fire TV and Fire Tablet devices with Fire OS 5 and above.
Android TV: Apple TV: Apple TV HD (4th Generation or above) with tv OS 13 or above
Chromecast: 1st Generation or above, including Chromecast with Google TV
LG Smart TV: LG WebOS 3.5 or above
PlayStation 4 and PlayStation 5
Roku: Roku 2 (4210X model only), Roku 3 & 4 (model 4200X or later) Roku Streaming Stick (model 3600X or later), Roku Express/Express+ (model 3900X or later), Roku Premiere/Premiere+ (model 3920X or later), Roku Ultra/Ultra LT (model 4640X or later), Roku TV and Smart Soundbar (model 5000X or later).
Xbox: Xbox One, Xbox Series X, Xbox Series S
Samsung Smart TV
How to sign up for peacock?
First, I will explain to you the plans and after that, you can decide the best suitable plan for you:
Peacock
Peacock Premium
Peacock Premium Plus

Thousands of Hours of Movies & TV
Channels Only on Peacock
Daily News, Sports & Pop Culture
Kids Shows & Movies
Telemundo Spanish-Language Series

All peacock content of free version

Plus

Live Sports including Premier League
Live Events Including WWE
Exclusive Peacock Original Series
Next-day Access to Current NBC hits
Even More Megahit Movies & TV
Full Access to Kids Shows & Movies

All content of peacock premium plan

With an additional benefit of

Stream Peacock ad-free*
Watch Select Titles Offline on Mobile

 

FREE
$4.99/MONTH

$49.99/YEAR

$9.99/MONTH

$99.99/YEAR
Now you can have an idea and select the plan according to your needs. Now I will tell you the steps:
Go to the official website.
Step 1: Navigate the Join now button at the top of your screen.
Step 2: Click on the below of the plan you want to select.
Step 3: Enter your details like email, password, name, gender etc.
Step 4: click on create Account.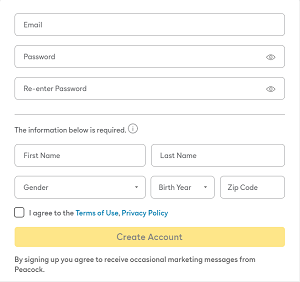 Step 5: Proceed to the payment gallery and do your plan payment, it will take about 30sec.
Step 5: enjoy streaming on your device.
HOW TO GET PEACOCK TV ON SAMSUNG TV?
So, these steps are for models from 2017 or later.
STEP 1: Make sure your TV is connected to the internet.
STEP 2: At the home screen, select the 'apps' icon (normally by scrolling left).

STEP 3: In the search box, enter "peacock tv" with the help of a virtual keyboard.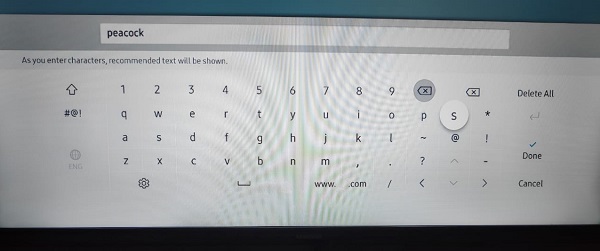 STEP 4: Select the peacock TV icon and you will be redirected to the Peacock TV app page.
Step 5: Click on the install button and it will take few minutes to complete the installation setup.
Step 6: After installing, click on the open option.
STEP 7: Open the app and log in with your account credentials (If you do not have an account, then first you must create one. Above are the following steps to create an account on peacock tv).
STEP 8: Go to the "Activate on your phone" option.
Step 9: In a while, an activation code will display on your Samsung TV screen.
Step 10: Visit the www.peacocktv.com/activate link from any browser on your computer or mobile.
Step 11: Submit the activation code on the empty field.
Step 12: Now you can watch peacock on Sams
HOW TO WATCH PEACOCK TV ON SAMSUNG TV MODEL BEFORE 2016?
So, you can watch peacock on every device, so for Samsung tv, there are many ways.
SOLUTION 1: Using Airplay 2
First, install the peacock tv app on your device (iPhone& iPad).
After installing login into your peacock, if you don't have an account sign up reading the details given above.
Make sure your smart tv and iOS are connected to the same internet.
Select the Airplay icon in the top right corner of the Peacock App when watching a movie or show.
Select your Samsung Smart TV, and it will begin to display on your TV.
SOLUTION 2: Using Chromecast
Install peacock tv on your IOS or ANDROID device, just click on IOS OR ANDROID according to your device.
Connect your Google Chromecast to the HDMI port of your Samsung TV.
Make sure your Chromecast or mobile should be connected to the same Wi-Fi connection.
After installing login into your peacock, if you don't have an account sign up reading the details given above.
Make sure your smart tv and iOS or Android device are connected to the same internet.
Select the cast icon in the top right corner of the Peacock App when watching a movie or show.
Choose your Chromecast, and it will begin to display on your Samsung TV.
FAQ
Is peacock not working on Samsung tv?
Your Samsung TV might be older than the 2017 model. You should follow the chrome casting method to watch Peacock TV on Samsung TV (Before the 2017 model).
If these are not the problem, you are facing then there are Methods to fix it:
Method 1: Hard reset your tv.
Unplug your tv and wait for 60 sec don't be impatient here, wait for the whole 60 sec and then plug it back in.
Then try opening peacock tv
Method 2: Hard reset your router
Unplug your router from which you are using the internet and hold it for 60 sec, and here also don't be impatient, 60-sec plug in the router and start your tv and try opening the peacock tv.
Method 3:
Delete the app on your tv, iOS or Android. And then reinstall it, read the above article to know how to install peacock tv, after that login again.
IS PEACOCK FREE?
Peacock is truly free! There is no need to use a credit card. To sign up, all you need is an email address and a password, and you'll have instant access to thousands of hours of amazing entertainment. You may immediately begin watching Peacock once you've signed up. There are no strings connected. There is no time limit on the trial period. It's simply free.
How to update the PEACOCK app on Samsung TV?
First, tap on the Smart hub or Home button on your TV remote.
Click on the Apps.
Now locate the Peacock app.
Select the Peacock app.
Click on the Re-install option from the drop-down menu.
Now you get the latest version of the Peacock app.
How to fix the Peacock buffering and freezing issue?
You must check whether your internet connection is connected or not.
Make sure your router must be close as possible for better signal strength.
Clear all the hurdles that deflect signals.
You need better internet speed.