In this article, we will tell you how you can install and activate YuppTV on Samsung Smart TV. YuppTV is one of the best and largest OTT platforms for South Asian content. It offers a large variety of movies, shows, programs and live events. Apart from this, it also offers over 250+ popular TV channels, Live TV and On-demand shows. You can catch all these shows more than 17 languages and it is available on 191+ countries. YuppTV offers over 25000 hours of full entertainment shows and movies as well as 2500 hours of on-demand shows.
Supported devices-
Android
iOS
Android TV
Apple TV
Roku
LG TV
PS3
PS4
Samsung Smart TV
Xbox
Sharp
Fire Tv
TCL
Hisense
Sony
How to stream YuppTV on Samsung Smart TV?
Step 1- Plug in your Samsung Smart TV to the power switch.
Step 2- Make sure your Samsung Smart TV is connected to the active Wi-Fi connection.
Step 3- Navigate the home button on your TV remote and tap on it.

Step 4- Go to the apps icon on your home screen.
Step 5- Find "YuppTV" on entertainment section or search "YuppTV" on the search field by using an on-screen keyboard.

Step 6- Select the YuppTV from the search result.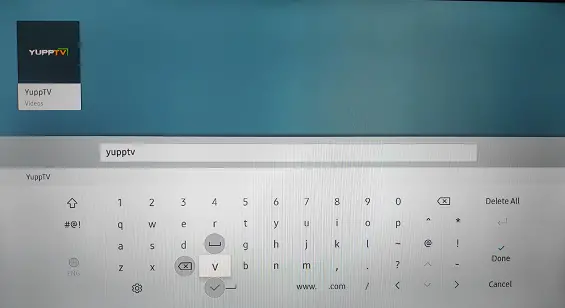 Step 7- Click on the install option on the next page.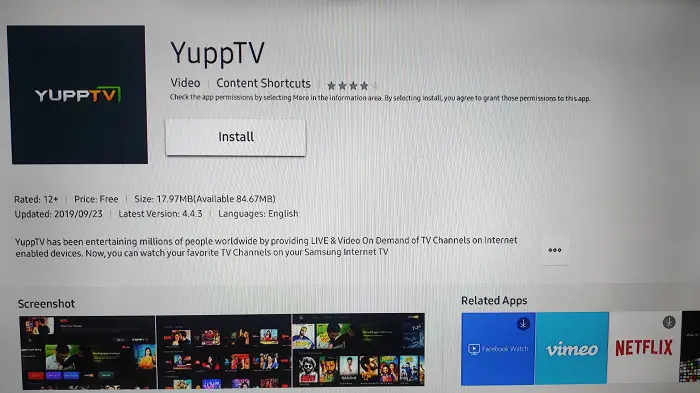 Step 8- It take few seconds to complete installation process (depends on your internet speed), then click on the open button.
Step 9- A 6-digit unique code will prompt on your screen. Note it down somewhere or leave your TV screen at the same.
Step 10- Go to https://www.yupptv.com/App/samsung.aspx link from your computer or mobile's browser.
Step 11- You may ask for sign in with your YuppTV account credentials and if you don't have an account, then you need to sign up for new account.
Step 12- Submit your 6-digit displayed code in the respective field and click on the activate button.

Step 13- After reviewing your code. YuppTV will refresh on Samsung Smart TV.
Step 14- Now you can stream YuppTV on Samsung Smart TV.
Step 15- Finish.
Related Questions-
Can I stream YuppTV on Samsung Smart TV?
Yes, you can easily install and activate YuppTV on Samsung Smart TV.
Is YuppTV available outside the U.S?
YuppTV is available all over the world. Over 193 countries allow YuppTV app in their respective country.
How to fix buffering issue?
There are many following reasons behind this-
Your internet connection is not properly connected.
Speed might be too slow for YuppTV. Make sure your internet speed must be above 3mb/s.
Restart your YuppTV app.
RE-install YuppTV on Samsung Smart TV.
Try any other internet device.
Replace wireless connection to the ethernet connection.