PBS (Public Broadcasting Service) is an American-based channel that offers documentaries, award-winning shows, popular serials, and many more. It has more than 350 member television stations, mostly owned by nonprofit groups and educational firms.
Popular shows-
American Experience
Between the lion
World on Fire
America's Test Kitchen
The Miniaturist
Indian Summers
Sanditon
Grantchester
Jamestown
Finding Your Roots
PBS on Samsung smart tv
PBS is the nation's largest classroom, a trusted window to the world, and the nation's largest stage for the arts. Furthermore, PBS's educational programming aids in the preparation of children for academic success and opens the world to them in an age-appropriate manner.
PBS KIDS
Providing the highest-quality programming and learning environment for children, PBS's children's media invites kids on a journey to explore the world around them with non-violent, age-appropriate content that offers positive role models for children to learn from and grow with.
They contain shows like Arthur, Clifford (the big red dog), wild kratts, oh Noah! Etc. to provide kids quality and educational programs.
Pbs masterpiece
MASTERPIECE presents beloved programming from classics such as Bleak House, popular favorites including Victoria and Sanditon, as well as mysteries including Endeavour, Inspector Lewis, Wallander, and more. MASTERPIECE occasionally presents the best in contemporary drama, recently featuring award-winning writer/director David Hare's Worricker trilogy.
Pbs Passport
With PBS Passport, an added member benefit, you get extended access to a digital, on-demand library of more than 1,500 episodes of PBS favorites.
PBS Documentaries Channel
The PBS Documentaries Prime Video Channel is a new way for curious viewers to access a large library of critically acclaimed, thought-provoking documentary series and films from PBS Documentaries, NOVA, FRONTLINE, AMERICAN MASTERS, NATURE, AMERICAN EXPERIENCE, INDEPENDENT LENS, POV, and other independent producers, including the entire Ken Burns collection.
Pbs living channel.
PBS Living is a streaming site that brings together renowned public media lifestyle and how-to material. ANTIQUES ROADSHOW, FINDING YOUR ROOTS, and THE FRENCH CHEF are among the channel's many shows, as are new favorites like CHRISTOPHER KIMBALL'S MILK STREET and NO PASSPORT REQUIRED.
How to create a PBS account:
Enter your name, email, and password.
For your password, use one upper case, and an alphanumerical value for a strong password.
Click on the register button.
Sign in to your account with a PBS account on your Samsung smart tv.
After you have created an account and logged in, you will get a notice stating that your device has been successfully activated.
HOW TO DOWNLOAD THE PBS ON SAMSUNG SMART TV
Step1: Switch on your Samsung smart tv
Step 2: Make sure you have an active internet connection.
Step 3: Press the home button on your remote.
Step 4: An app icon will display on your screen on the corners, click on it.


Step 5: Click on the search button or on a magnifying icon.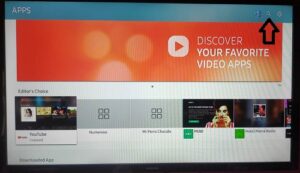 Step 6: Type PBS and click on search.
Step 7: Open the PBS video app.
Step 8: Click on the install icon.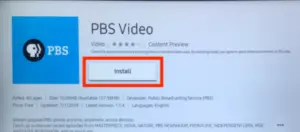 Step 9: Your Samsung Smart TV will begin to download the app.
When the download is finished, you will be able to access the app from this screen, and you will also be able to open it later from your home menu, where it will be listed alongside your other apps and you can activate PBS on Samsung smart TV.
How to activate the PBS on Samsung Smart TV.
Step 1: Open the PBS Video app after installing it.
Step 2: Click on the Activate now icon, displaying in the center.
Step 3: You will get a unique code.
Step 4: Click on pbs.org/activate, from a mobile device or a computer.
Step 5: Enter your code and click continue on your device.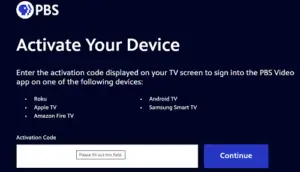 Step 6: Then it will ask for a sign-in, login to your account with a Facebook, Google, or PBS login account (it is mandatory).
Step 7: If you do not have an account, create a new PBS account (mentioned above).
Step 8: Return to your Samsung Smart TV's PBS Video app.
How to watch PBS without any cable?
If you want to stream the PBS channel without any TV provider, then you have to subscribe for this from any streaming service, which offers PBS Channel as a part of their subscription plan. Currently, only one streaming service is available that offers a PBS channel.
YouTube TV-
YouTube is one of the most popular streaming services. It is the only streaming service that offers PBS channels on its subscription plan. By subscribing its plan, you can watch over 100 PBS member station across the U.S. YouTube only cost you $64.99/month and apart from PBS channel, you can stream many other channels as well. Record as much as you want, it offers unlimited cloud DVR storage features.
Enjoy streaming.