A lot of Samsung TV users have claimed that they have encountered the "Samsung TV Error Code 107" problem several times while streaming and they could not find a way to fix it. This error causes headaches for the users. Sometimes this error lasts only for a few minutes but sometimes it does not go away from your screen for hours. This "error code 107 Samsung TV" problem basically indicates that your Smart hub is unable to connect with the internet. It might be due to some internet fault, system fault, or incorrect setting. So today in this guide, we will tell you how you can fix it.
Reasons for error code 107 Samsung TV-
Before we proceed to fix the "Samsung TV error 107" problem, we must first understand the exact reason behind this error. It is not necessary that this error always appears due to only one reason, there could be multiple reasons.
Fault on internet connection.
Slow internet.
Corrupted Firmware
Minor bugs
The problem in Smart hub
Incorrect system setting
Read also- How to install Flash Player on Samsung TV?
How to solve Samsung TV error code 107?
Method 1- Restart your Samsung TV and Wi-Fi
Most of the time such "Samsung TV error code 107" errors are caused only by minor bugs and the best solution to such problems is to restart your Samsung TV. Because by restarting, all the small bugs in your device are automatically cleared and you don't require much effort into it. You don't have to do much, all you have to do is simply plug out your Samsung TV and plug it in after a few minutes.
If you do not get the solution even by restarting the Samsung TV, you can also restart your Wi-Fi or router.
Method 2- Check your internet connection
Mostly this error occurs due to fault on the internet, whether it is due to improper internet connection or internet is not stable. Because slow internet does not allow to access Samsung TV properly, you face an "error code 107 Samsung TV" problem.
Step 1- Try to get your Wi-Fi as close to your Samsung TV as possible so that you get a better signal.
Step 2- If the "Samsung TV error code 107" problem still appearing on your TV, then you should try another modem or router.
Step 3- Check your internet speed by a speed test.
Method 3- Update your system firmware
Many users have claimed that they have also faced this problem due to bad firmware. There may be bugs or faults in that firmware due to which this error is appearing. In such a situation, the best solution is to either update the firmware or roll back to the previous version.
You must have an internet connection on your Samsung TV to update firmware and if you don't have an internet connection then you can also update with the help of a USB.
Step 1- Tap on the home button on your Samsung TV.
Step 2- A small screen will pop up on your TV, navigate the setting option by scrolling the right side.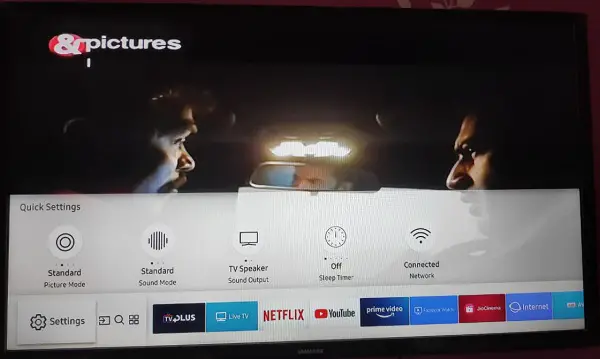 Step 3- Click on the setting option and select the Support option.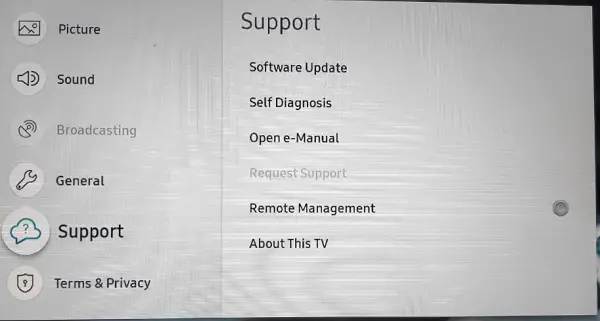 Step 4- Go to the Software Update option.
Step 5- Choose Update Now in order to update the latest software.
Note- You can also choose the USB method for updating firmware. Just connect your USB to the Samsung TV HDMI port.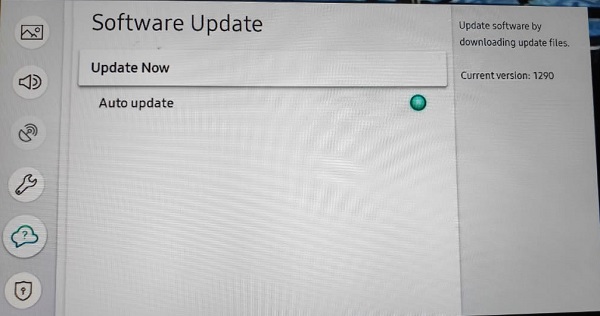 Step 6- Finish.
Method 4- Reset Smart hub
Many users have also found a solution by resetting the Smart Hub and this is a very common method that you must follow to fix Samsung TV error code 107. Your Smart Hub gets corrupted due to corrupted files and data, due to which Smart Hub is not able to access properly. That is why it is better that you reset the smart hub so that the situation can be normal as before (fresh start).
Step 1- Go to the setting option.
Step 2- Click on the support option.
Step 3- Now, select the Self-diagnosis option.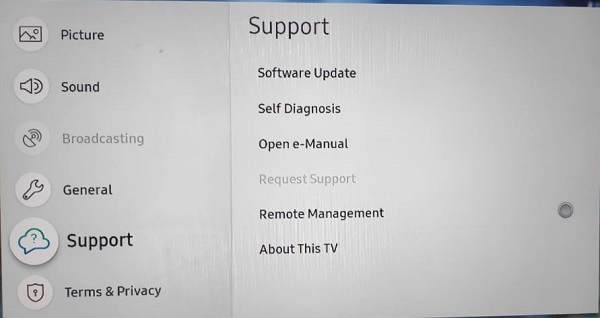 Step 4- In the Self Diagnosis tab, you have to click on the Reset Smart Hub.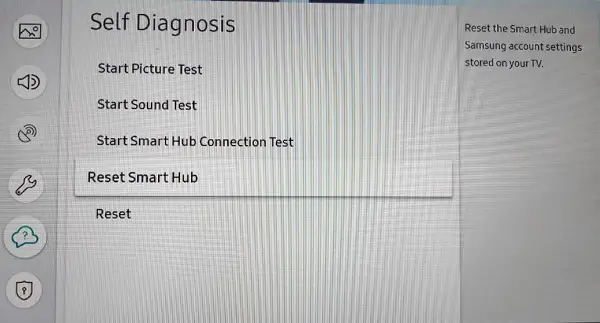 Step 5- Enter default pin "0000" in the empty boxes.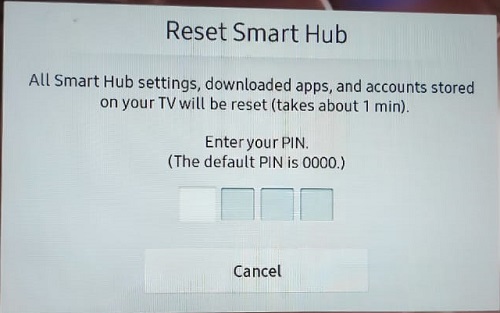 Step 6- Within a minute, your Samsung TV will automatically reset the smart hub.
Method 5- Reset your TV settings
If there is no improvement in the situation even after adopting all the above methods, then you should try this last method as well. In this method, you have to reset the whole system, this will bring your system to the default setting. In this, all your settings like network, audio, video, and many more settings will return to default settings.
Step 1- First, select the setting option in the Samsung menu.
Step 2- Find the support option and click on it.
Step 3- Now click on the Self Diagnosis option for resetting the system.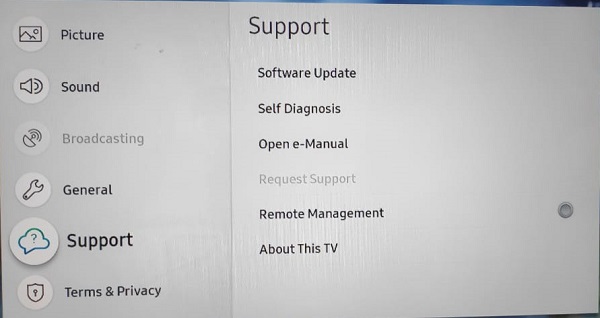 Step 4- Go to the last option reset and select it.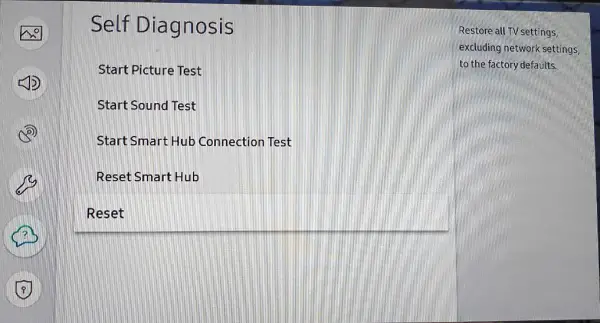 Step 5- Submit default code "0000" for proceeding with the further step.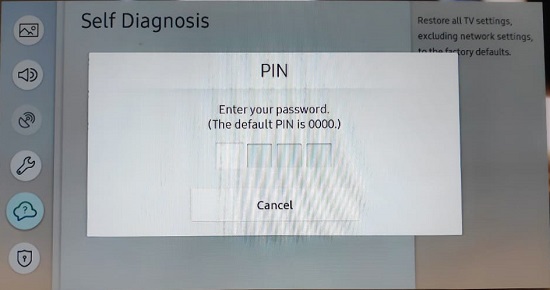 Step 6- Finish.
I hope this step might help to fix the "Samsung TV error code 107" problem.